The Holiday Season is a time of giving and Captain Chad at Vitamin Sea Charters taking advantage of the amazing fishing that Galveston Bay is giving us! We're catching Redfish, Seatrout and Flounder that will all look great under your Christmas Tree….or maybe on your dinner plate instead.
NOW is the time to book your holiday/winter fishing trip as the Flounder daily bag limit is set to increase to five per angler on December 15th and the other species are on the bite as well!
Fishing Report
Flounder Pounders
Our strong Flounder fishing has continued from November into December and there is no sign of letting up. Our clients have been catching limits of Flounder and releasing many, many more on every trip. Our Galveston Bay Flounder stocks are some of the healthiest we've seen in years thanks to responsible conservation efforts that Vitamin Sea Charters fully supports.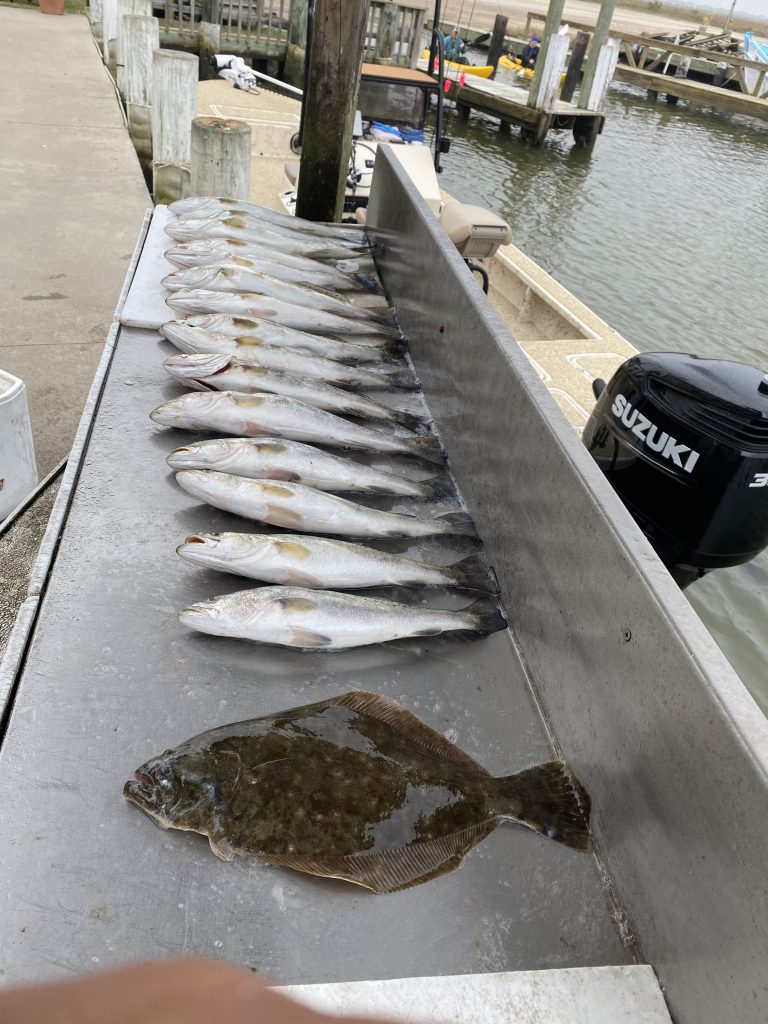 We've been catching Flounder well over the 14" minimum length on live shrimp as well as a variety of soft plastics and swim baits. We've been using medium-sized spinning outfits spooled with 30lb braid and using 30 lb fluorocarbon leaders.
As the temperatures drop and the wind picks up, the Flounder don't seem to mind and are expected to stay on the bite.
Seeing Plenty of Red
Santa won't be the only one wearing red during the holidays. We've been catching plenty of Redfish in the 5 lb to 30 lb class throughout the fall and into the winter. We've been catching the smaller Reds on the same medium spinning tackle that we've been using for Flounder and Trout but we've also had to step up to heavier spinning outfits when the 30lb bull Reds start crushing our live baits and swim baits in the drop offs, channels and deeper holes.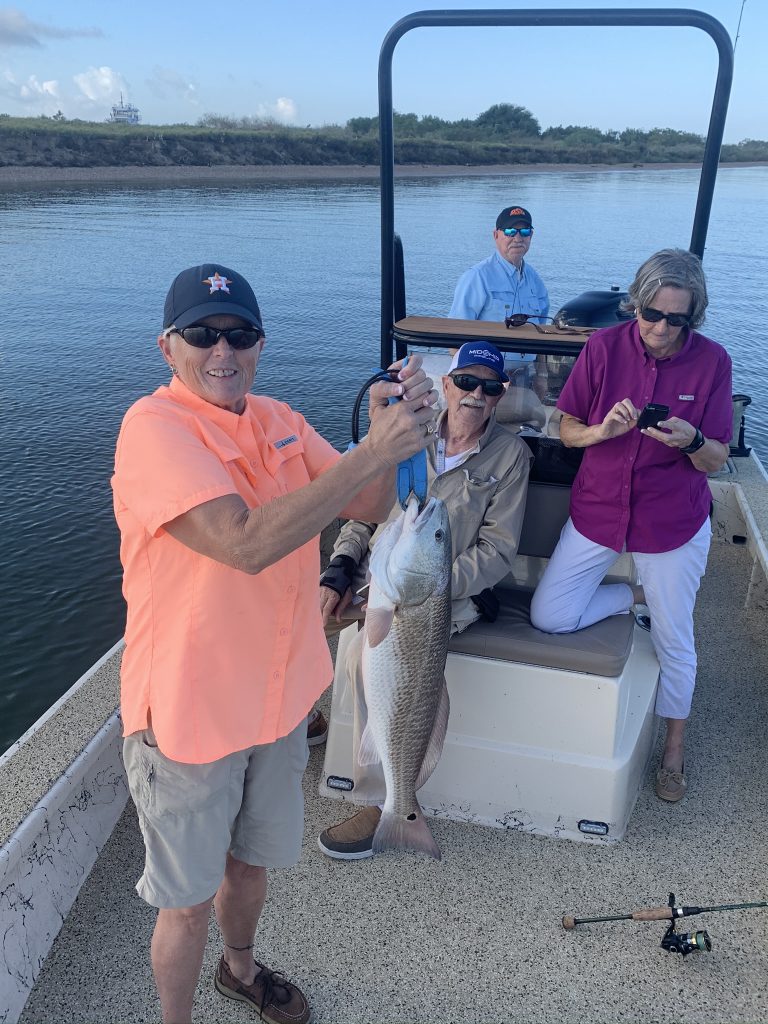 These huge Redfish are a challenge for the novice and experienced angler alike. We at Vitamin Sea Charters love to put our clients on these beasts and hope that you'll book your trip to get up close and personal with these sluggers.
Tasty Trout
Not to be overlooked, the Seatrout fishing has also remained strong from November into December and is expected to be fantastic as the temperatures drop with every cold front. We've been catching Seatrout from 15" to 25" and even bigger with the recent cold fronts! These large Seatrout are an absolute blast on light tackle and can be ferocious when presented with our live baits or soft plastics. These Seatrout are bunched up in large schools in the darker water and grassy areas and will get very competitive when presented with a bait. Double and Triple headers are the rule, not the exception when fishing with Vitamin Sea Charters. Plus, few fish are as tasty as fresh Seatrout.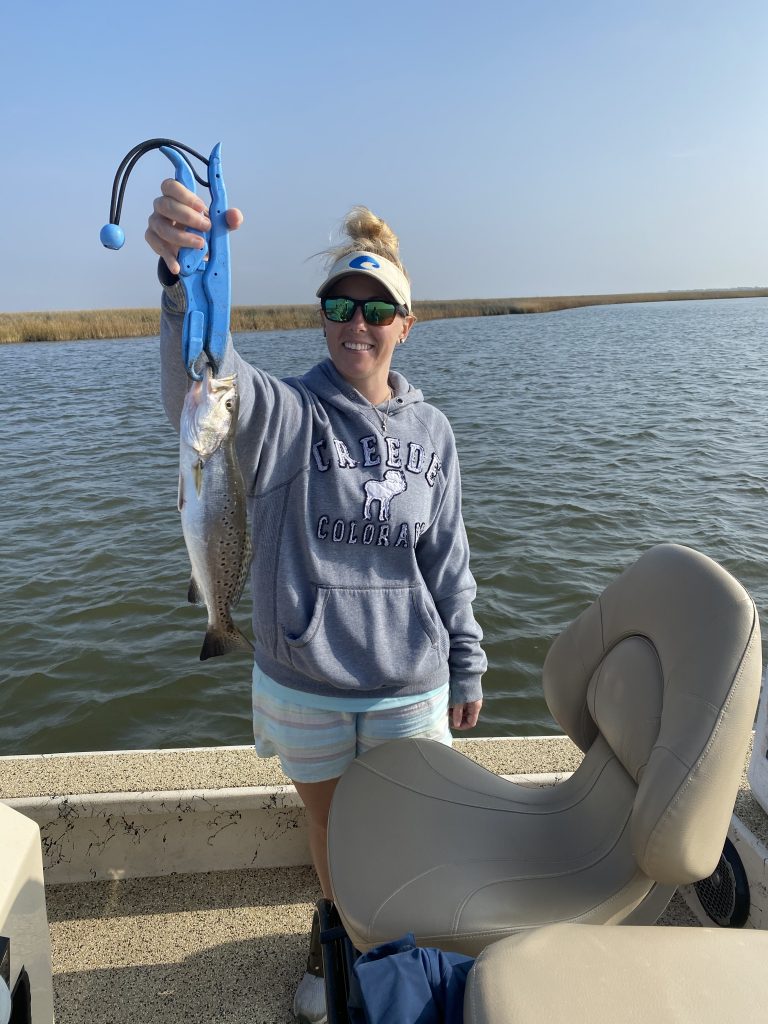 Wade into the Holidays
We'd like to remind you that this time of year is ideal for our famous Wade Fishing Charters! This time of year, Redfish and Trout will make their way up into the "skinny water" and the best way to get after them is to get out of the boat and stalk them by wading. This brand of sight fishing is one of the most exciting angling experiences that an angler could hope for. You will get weak in the knees as you make a perfect cast in front of a huge, waking Redfish in 9 inches of water. When you set the hook, you'll hold in for dear life as that monster goes screaming across the flat to find deeper water! It's a truly amazing experience and one that we hope to show you very soon!
Treat yourself, a family member or close friend to the gift of an amazing Galveston Bay fishing trip aboard Vitamin Sea Charters! We still have some slots available for December and January. Call now and ask about our Holiday Season offers!
Tight Lines and Merry Christmas!
Captain Chad